Used Honda parts make up the largest portion of our salvaged motorcycle parts in stock. SuperSport Motorcycle Works, salvage more than 100 wrecked Honda street and dirt bikes every year.
We can supply almost any used Honda part you need for your street bike, or dirt bike. With more than 300,000 used Honda parts in our warehouse, from engines & engine parts to frames,  fenders, chassis, electrical parts, tanks, carbs or exhaust parts and much more.
We ship used Honda parts to Canada, USA & UK to rebuild your sport bike, dirt bike, cruiser or vintage Honda project, our motorcycle salvage experts can help you find the part you need.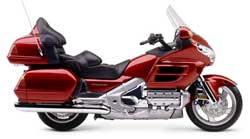 All used motorcycle parts are inspected and tested prior to shipping.
Our parts inventory is ever changing, with new Honda street bikes and dirt bikes, being parted out daily.
If you're looking for a rare or vintage part for your Honda motorcycle, please contact us through our Parts Inquiry Form
Honda Street Bikes

Honda Dirt Bikes

CB550F
CB550F
CB550SC
CBX550
GL650
CX650E
CB650
CB650C
CB650SC
CB750SC
CB750K
CB750F
CB750C
CB900C
CB900F
CB1100F
CBX1100
FT500
RVT1000R
VT500F
VT500C
VT600
VT750
VT1100
VF500F
VF500C
VF750S
VF750C
VF750F
VFR750
VFR800
VF1000F
VF1000R
VTR1000F
VF1100C
VF1100S
VTX1800
CBR600F1
CBR600F2
CBR600F3
CBR600F4
CBR600F4i
CBR600RR
CBR900RR
CBR929
CBR1000
GL1000
GL1100
GL1200
GL1500 GOLD WING
GL1500 VALKYRIE
ST1300
Z50
XR75
XR80
XR100
XR200
XR250
XR350
XR500
XR600
CR60
CR80
CR125
CR250
CR450
CR480
CR500

Street & Trail

XL75
XL125
XL175
XL185
XL200
XL250
XL350
XL500
XL600
XL600 TRANSALP